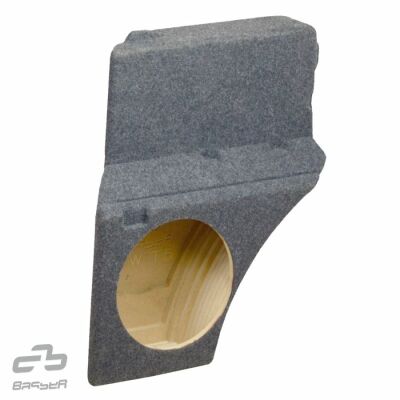 "VW Transporter T5, Multivan, Caravelle 10"" 15 Liter"
VW T5 Multivan/Caravelle Fit-Box subwoofer enclosure
Fits to Volkswagen T5 Multivan, Caravelle 2009-, subwoofer 10"/25cm, volume 15 liters
Product parameters
| | |
| --- | --- |
| Board | MDF |
| Carpet | Grey Melange |
| Speaker size | 10"/25cm |
| Mounting hole diameter (mm) | 232 |
| Subwoofer depth (mm) | 120 |
| MAX magnet diameter (mm) | 140 |
| Volume closed enclosure (liters) | 15 |
| Weight (kg) | 5,30 |
Note that max magnet diameter of subwoofer 132mm depth can not be bigger than 120mm
Assembly instruction:
- before starting montage, you have to pull off left side of trunk.
- you have to screw it to interior trunk using screws
Fit-box subwoofer enclosure is the ideal way to improve bass in the car. By matching to the vehicle takes little space and does not interfere with normal car use. Box parameters are chosen so that, they could be installed in most popular subwoofers and simultaneously provide great bass in the car.
BASSER enclosures are manufactured in Poland. In thier production, we use best quality MDF's of well known brands. Even after years our products look like brand new as a result of their high strength. Also the carpet stands for years. With BASSER enclosures speaker will play as the producer wanted to.
Before purchase Fit-Box please make sure it's gonna fit to your car model. Pay attention if your vehicle doesn't have any additional modules or other devices in mounting place. If in doubt, please contact with seller or send photo to make sure the enclosure will fit your vehicle. In some cases you have to be prepared to incise, cut or drill various elements of you vehicle for proper mount.
Responsibility for proper and safe assembly is a person who mounted the enclosure in vehicle. We also recommend to entrust Fit-Box installation to professional car audio company.